There are so many films in the Marvel Cinematic Universe that it's getting hard to keep them all straight. They are coming fast and furious (has there been a crossover with The Fast and the Furious yet? Vin Diesel could get double pay…) and at a relentless pace; it seems like there's always one at the multiplex or another one just around the corner. There's a certain tonality to them all, too, a certain cookie-cutter characteristic that is beginning to emerge from the overexposure and centralized production. Not so with Thor: Love and Thunder, however. Here is a film, from Director Taika Waititi (who also helmed Thor: Ragnarok), that takes the mold and all but puts a clown mask on it; the film is intentionally humorous well beyond the normal confines of the MCU's comic relief. It's basically a backwards approach, putting the humor and levity first and the "serious Superhero" stuff second. It works, broadly, but is it enough for the film to really stand apart from the MCU sprawl?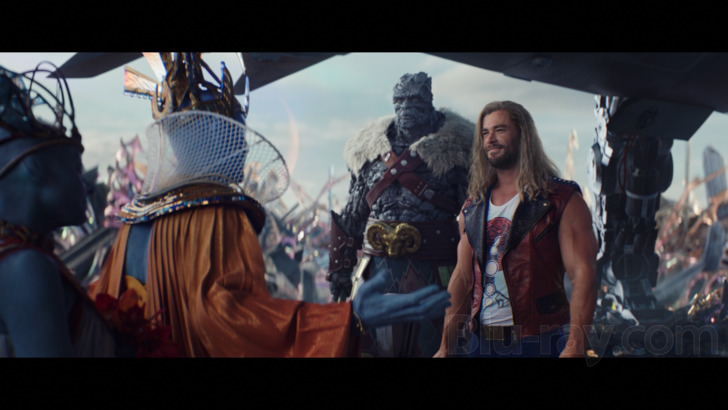 Gorr (Christian Bale) has just lost his daughter, but he has not lost his faith. But when he confronts his god in hopes of receiving his eternal reward, the god scoff at him. The vengeful Gorr, armed with the powerful god-slaying Necrosword, kills the god and vows to kill all others. Meanwhile, Jane Foster (Natlie Portman) is dying of cancer. However, the shattered Mjolnir, now a tourist attraction, calls to her and transforms her into "Mighty Thor." She, Valkyrie (Tessa Thompson), Korg (voiced by Taika Waititi), and Thor himself (Chris Hemsworth) team up to battle this new and suddenly unstoppable villain.
For better or for worse, Thor: Love and Thunder is all over the place for the sake of being all over the place. It's concerned with flash and curiosity and oddity rather than building a coherent superhero story. But…the MCU is so stuffed with just that that this film's tonal shift is actually, in some ways, a very welcome one. The focus on humor first – not corny jokes but just a steady barrage (as opposed to the odd aside) of situational humor – sets it apart from the pack while still delivering all of the usual MCU action and character elements that fans demand. This is definitely on the fringe of the MCU while remaining one of the most mainstream of the franchises within it. It's a very interesting juxtaposition to say the least.
That said, there's a certain disconnect from reality here, "reality" being whatever it may be within a fictionalized Superhero universe. The film just can't bridge the gap it builds within itself, or with the rest of the MCU. Dark themes aplenty dot the film, yet they often feel weightless under the barrage of borderline slapstick and incoherent imagery that abounds throughout the film. World-spanning cameos to both the MCU and the larger realm of mythology can't find solid footing in the film. Action is present in large scale but never really delights; it's just repetitively tiresome and it's what is happening around the fringes that really makes the action work.
The film is certainly a production design bonanza and a special effects delight, but these things are not enough to elevate the movie beyond its core; after all, such are expected staples of an MCU film, and from the raw technical perspective things don't disappoint. Cast and performances are fine, but Hemsworth can't quite bring perfect balance to the levity that abounds and the darker and more serious personal, and world, concerns his character faces throughout. Portman does a better job because she's not laden by the humor. Christian Bale is terrific as the villain in yet another fully transformative role for the versatile actor.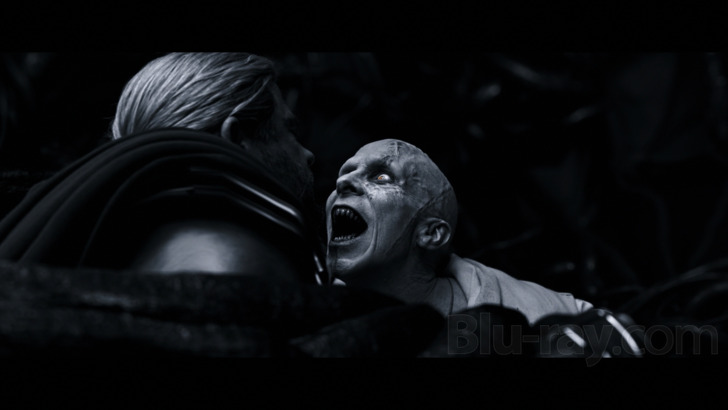 Thor: Love and Thunder arrives on Blu-ray with a 1080p transfer that satisfies any and all expectations for it. The image is crisp and clean. The digital shoot translates remarkably well to this format, yielding impressive clarity and stable details throughout the film. Skin, clothes, and various real and artificial digital environments all boast resoundingly good and format-peak definition and textural muscle, revealing every fine-point detail with impressive accuracy and tactile depth. Colors are robust, enjoying punchy vividness but never reaching too far too unwieldy contrast or abnormal color temperatures. Black levels are deep, whites are appropriately crisp, and skin tones look natural. Noise is kept to a minimum. There are a few softer edges here and there which are inherent to the original photography. There are no encode issues of note. This looks tremendous.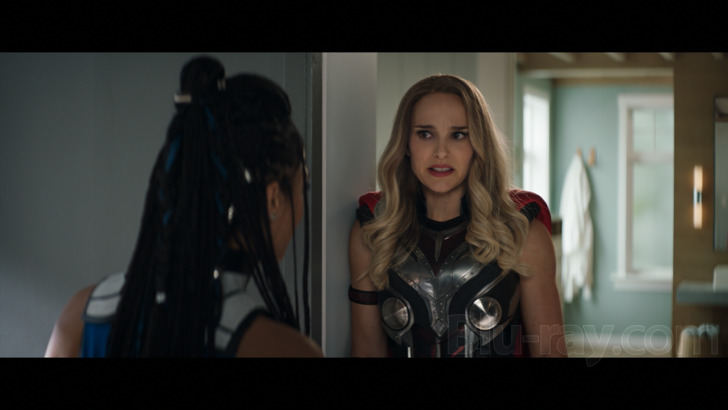 Audiophiles are not going to love Thor: Love and Thunder's DTS-HD Master Audio 7.1 lossless soundtrack. This is a typically flat and lifeless Disney track. Most any review of any modern MCU 7.1 lossless track could be transplanted here and fit word-for-word. The track is not short of stage engagement and surround detail, but it is severely lacking, if not absent altogether, the sort of serious low-end extension the material demands. It's timid and reserved at reference volume, so what's here sounds shallow and uninspired, whether talking the popular 80s tunes and 80s inspired score or the general chaos of battle and action and the merging of these audio elements. Cranking it up well beyond calibrated norms helps, but there just needs to be more…at this point, however, it is clear that Disney is committed to delivering this sort of audio experience. Overall clarity and engagement are fine, and dialogue is clear and center positioned. However, prioritization and audibility at reference volume are sometimes problems. So, blast it (don't forget to turn it down afterwards) and enjoy something that approaches a normal track, but it's a strain to hear and a disappointment overall at reference volume.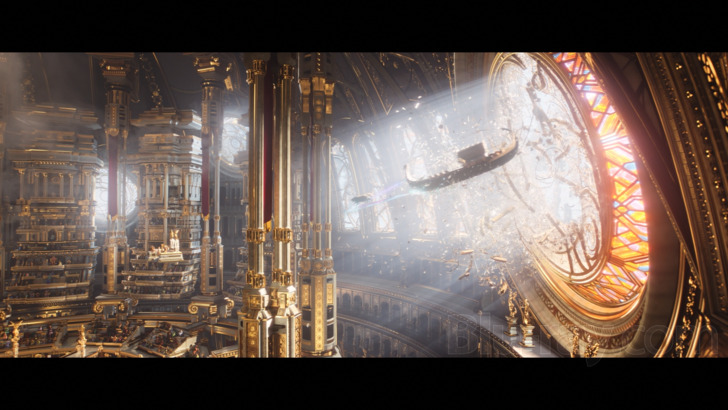 This Blu-ray release of Thor: Love and Thunder contains an audio commentary track, three featurettes, deleted scenes, and a gag reel: a textbook definition of a basic supplemental suite. No DVD copy is included, but Disney has bundled in a Movies Anywhere digital code.
Hammer-Worthy: Thor and Mighty Thor (1080p, 5:36): This piece begins by looking at the importance of doing something "different" and "surprising" with the film. It looks at Natlie Portman's role in the film, her performance and physical training, Hemsworth's physique, costumes, cast camaraderie, and more.
Shaping a Villain (1080p, 6:11): A closer look at Gorr and Christian Bale's performance.
Another Classic Taika Adventure (1080p, 7:53): Exploring the director's work on this film, the franchise, and the unique "comedic voice" he brings to the franchise. The piece also looks at the film's duality between heart and soul and the big arcs of action and adventure.
Gag Reel (1080p, 2:45): Humorous moments from the shoot.
Deleted Scenes (1080p, 7:45 total runtime): Included are Looking for Zeus, Wasting Time, A Safe Vacation, and Fighting for You.
Audio Commentary: Director Taika Waititi talks up the film.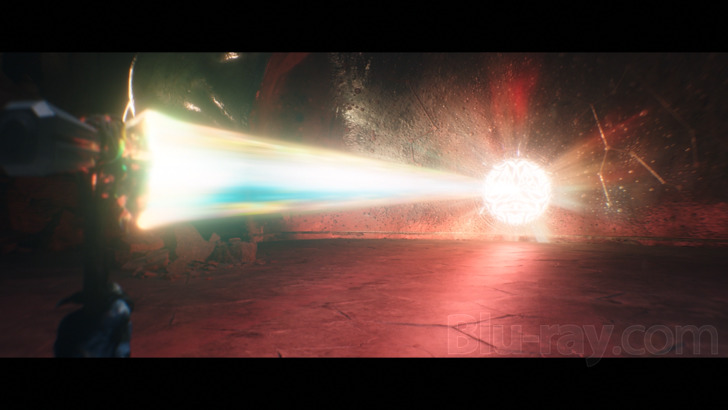 Thor: Love and Thunder is certainly its own animal, blending familiar MCU strides with Taika Waititi's personal brand of cinematic shenanigans, resulting in one of the most unique films in the growing list of familiarly structured MCU pictures. It does enough to satisfy the broader dramatic and action demands as well, but this one is about the laughs first and foremost. Disney's Blu-ray delivers tip-top video, struggling audio, and an average allotment of bonus content. Recommended to franchise and MCU fans.